Summer Sale
July.09-12.2021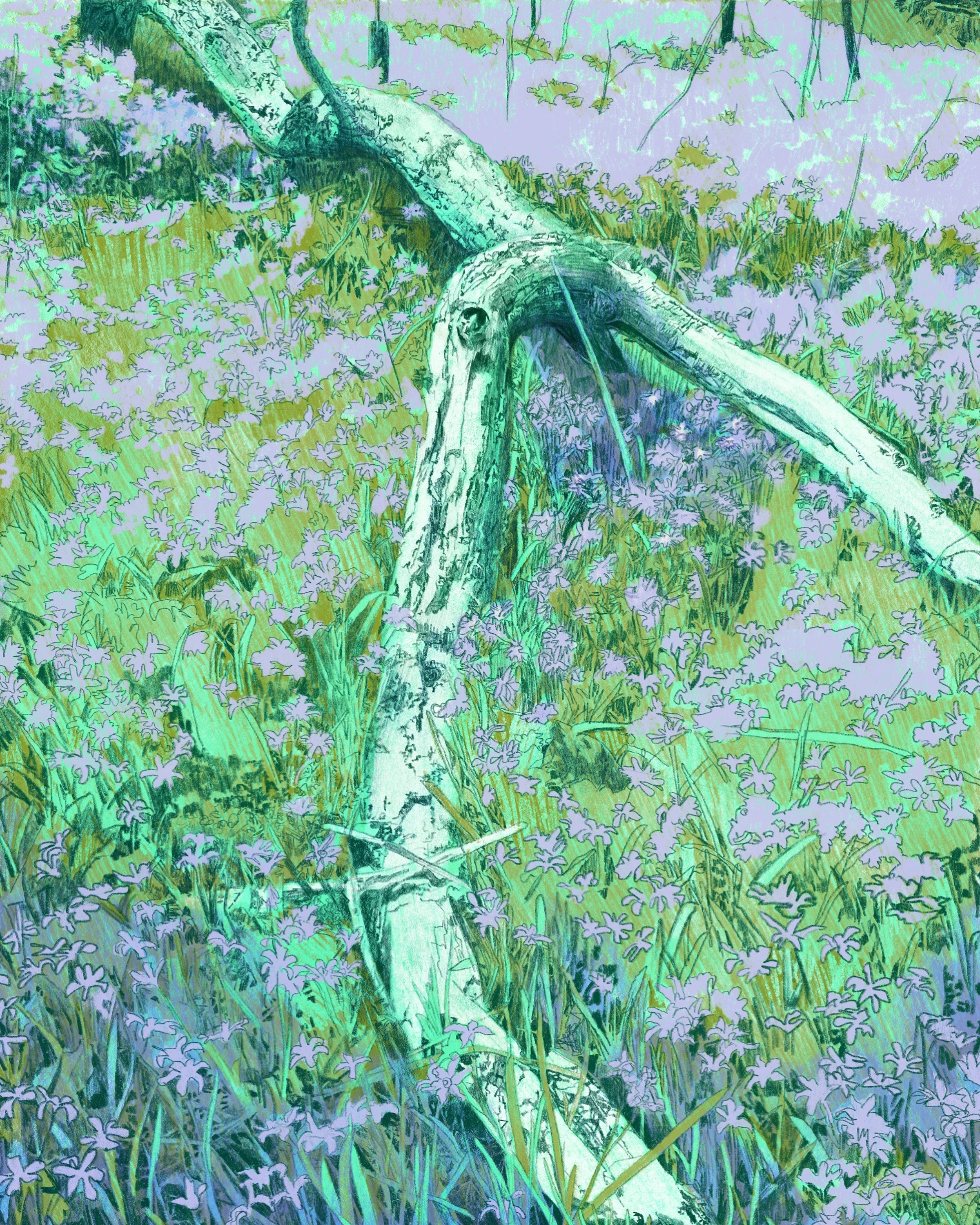 Shop pre-sale on a new collection of limited edition archival inkjet prints until July 16, 2021!
✿ A B O U T T H E N E W C O L L E C T I O N ✿

This collection presents a series of new digital drawings, part of an ongoing project A Feast for the Eyes. The term feast is defined as something extremely pleasing or sumptuous, hence the title "a feast for the eyes". Exploring the genre of landscape and its implications through this definition, I've been using my memories and experiences in Quebec and the Maritimes as a point of departure.
Having grown up in Saint John, but now residing in Montreal, my identity as a maritimer has strengthened by noticing, and allowing for, the existence of differences in urban development, industry, and types of landscape between these two places.
The drawings in this new series are reimagined landscapes that explore escapist fantasies, absurd realities, and surreal hybridities. Asserting a personally relevant collection of objects, structures, and motifs, each drawing recombines observations and memories of place to reflect upon the interconnected nature of landscape, home, and self.



✿ P R I N T D E T A I L S ✿

Each print features a different drawing from this ongoing series. Limited to editions of 10 per print, each artwork is printed with inkjet ink on archival cotton rag paper. Every print comes packaged in a cellophane sleeve, backed by mat board for safe keeping.

✿ W H Y P R E - S A L E ? ✿

Pre-sale is a great way to test ideas for new prints before committing to the cost of having them made!
Five of each print will be available for pre-sale. When the sale ends, I will place an order with the printer, then ship out your prints when they are ready! The remaining print editions will be available in the shop at a later date.

The Summer Sale aims to cover the cost of printing your orders and re-stocking the shop, among other studio expenses.

Shop 20% off all IN-Stock MERCH, Also until July 16, 2021!
✿ A B O U T 2 0 % O F F C L E A R A N C E ✿

These prints, apparel and stickers are currently stocked! Art prints and stickers are limited in quantity, and remaining apparel has reduced sizing. All merch incuded in the clearance sale features a selection of artwork from the series Memory Paintings. Reflecting memories of Eastern Canadian landscape, these small studies span locations across the Maritimes, Quebec, and Ontario. Painted from memory, this series compares built and natural environments to explore my personal relationship to rural and urban spaces.

✿ S H I P P I N G ✿

Expect to wait 3-4 weeks from date of purchase for the arrival of your order. If you purchase clearance items in addition to pre-sale items, they will be shipped at the same time. For those located in Montreal, select local pick-up at checkout. Please choose this option only if you can arrange a COVID-safe pick-up. Orders outside of Montreal will require additional shipping fees, provided at check-out.

✿ P A Y M E N T ✿

Currently, my webshop only accepts PayPal. If you wish to purchase a print by cash, cheque, or e-transfer, or have any other questions, please get in touch!

✿ S O L I D A R I T Y ✿
15% of all sales during the 2021 Summer Sale between now and July 16th will be donated to the IRSSS in solidarity with Indigenous residential school survivors.